Community service-learning and academic internship courses provide unique opportunities for AAS faculty and students to serve diverse Asian American communities; they have resulted in positive strides toward promoting racial equality, civic responsibility and social justice.   

AA S 301 Students Self-Publish Works About Asian Americans of Mixed Heritage
Course Title: AAS 301 Asian Americans of Mixed Heritages
Current Professor(s): Professor Dariotis
Funding: n/a
AA S 301 is one of the only courses in the nation devoted to studying issues concerning Asian Americans of mixed racial and ethnic heritages. Taught by Dr. Wei Ming Dariotis, students have produced picture books that have been donated as a fundraiser at a Mixed Heritage and Transracial Adoptee Children's Book Fair. Through the narratives reflected in these picture books, Asian American children of mixed racial and ethnic heritages can see themselves represented, which helps to cultivate a sense of belonging and encourages language skill development.

AA S 512 Students Collaborate with The Association of Chinese Teachers (TACT) and the SF Public Library to Highlight Asian Pacific Islander American (APIA) Contributions
Course Title: AA S 512 Asian American Children's/Adolescent Literature
Current Professor(s): Jeannie Woo
Funding: Instructionally Related Activities Grant
The AAS Department at SF State, in collaboration with TACT, the Square and Circle Club and the SF Public Library, strives to educate the general public about APIA cultural, historical and literary contributions to American society. AA S 512 students wrote biographical profiles of prominent APIAs that are catered toward the reading levels of children. After researching the historical streets and public spaces in San Francisco, they produced a map of "APIA Stars," with each star representing a site on San Francisco's map. Through this multi-collaborative approach, these students have empowered public institutions, such as the SF public library, to advocate for and engage in more cultural events to educate public audiences at a younger age. By focusing on the contributions of pioneering APIAs, the general public can learn to dismantle harmful and superficial stereotypes painted and perpetuated by the mass media.

AA S 595 Students Conduct Refugee Needs Assessments to Raise Over $350K in Funding 
Course Title: AA S 595 Asian American Communities and Public Policy
Current Professor(s): Russell Jeung
Funding: n/a
Refugees from Burma and Bhutan, Mongolian undocumented families and Bayview Hunter's Point residents often face post-resettlement challenges, including access to employment and healthcare. AAS 595 students work with local organizations, such as Burma Refugee Family Network (BRFN), to host health fairs and conduct needs assessments for diverse communities in the Bay Area. The results from these projects highlight the importance of ethnic heterogeneity in identifying barriers to accessing essential services, and have produced reports that have been used for strategic planning, grant writing and community education. Non-profit organizations have leveraged these findings to raise over $350,000 in funds. In addition, the results have also helped reform policies to implement more effective evidence-based interventions addressing health disparities in marginalized communities, as well as strengthen the social ties with these organizations for the continuation of these projects.
View Crisis to Community Development Report 

AA S 681 Students Continue to Play an Integral Role in Pin@y Educational Partnerships (PEP)
Course Title: AA S 681 Asian Community Changes and Development
Current Professor(s): Allyson Tintiangco-Cubales
Funding: n/a
SF State students and Professor Allyson Tintiangco-Cubales planted the seeds for Pin@y Educational Partnerships (PEP) by developing a lunchtime mentoring program to address issues among Filipina/o/x American students. PEP's mission is to develop a space where education, ethnic studies, art and community service can work in tandem to uplift Filipina/o/x Americans. AAS students volunteer as educators teaching Ethnic Studies curriculum in San Francisco Unified School District (SFUSD) public schools at all levels of education. By promoting transformative decolonizing curriculum and pedagogy that centers the voices of Pin@ys/xys, the barangay (community), which continues to grow, nurtures future community leaders. To this day, past and present AAS students continue to play an integral role in developing and improving the Filipino American Experience course, as well as other curricula.
More Information: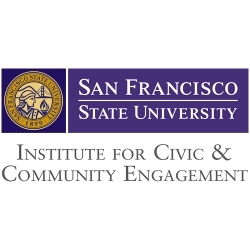 Learn more about Community Service Learning and Academic Internship Courses at SF State:
Institute for Civic and Community Engagement
The Institute for Civic and Community Engagement (ICCE) provides opportunities for civic engagement and leadership development at San Francisco State University. ICCE offers placement opportunities with community-based organizations, internships with civic organizations, and scholarships that recognize exemplary service.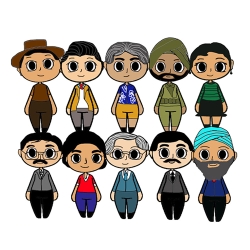 Asian Pacific Islander American (APIA) Biography Project
In this project, AAS faculty and students at San Francisco State University volunteer to develop APIA biographies, curricular activities and resources. The mission of the APIA Biography Project includes educating the general public about API America with an annual APIA Heritage Month Celebration at the San Francisco Main Public Library and a resource website created especially for K-12 students and teachers.
See Where Past and Present AAS Students Have Interned and/or Volunteered:
ALAY/Kabataan
All Power to the People Archives
Asian American Recovery Services
Asian American Women Artist Association
Asian Health Services
Asian Pacific Islander Wellness Center
Asian Youth Prevention Services
Babae Healthy Relationships Women's Services
Bayanihan Center
Bill Sorro Housing Project
Bindlestiff Studio
Chinatown Public Health Center
Chinese Community Development Center
Chinese Culture Center
Chinese Historical Society of America
Diasporic Vietnamese Artist Network (DVAN)
Filipino Advocates for Jusice
Filipino Community Center
Japanese Community Youth Center
Japanese Culture and Community Center of Northern California
Korean Community Center of the East Bay
Liwanag Kultural Center
Manilatown Heritage Foundation
National Japanese American Historical Society
NICOS Health Coalition
Philippine Bayanihan Resource Center
Pin@y Educational Partnerships (PEP)
San Francisco Korean Center, Inc.
South East Asian Cultural Heritage and Musial Performing Arts (SEACHAMPA)
The Association of Chinese Teachers (TACT)
Veterans Equity Center
Vietnamese Youth Development Center