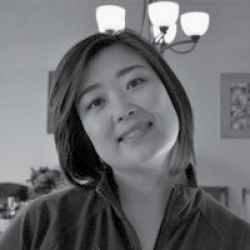 Jeannie Woo 胡美蓉, M.A.
Lecturer, Asian American Studies Department
Office: EP 420
Phone: 415-338-2273
Email: jeannw8@sfsu.edu
2003 Year of first appointment in Asian American Studies
Lecturer Faculty Biography
MA San Francisco State University, Asian American Studies
BA San Francisco State University, American Studies
210 History of Asians in the United States
211 Contemporary Asian Americans
320 Chinese in the United States
510 Asian Americans in California
681 Asian American Community Changes and Development
2014 SFSU Asian American Studies and Asian Student Union Alumna of the Year
2002 CSU Sally Casanova Pre-doctoral Fellowship
2012
"Avocado and Ketchup Sandwich: Tertiary Migration Understandings." International Symposium on "International Migration and QiaoxiangStudies" Conference Proceedings. Vol. 1. Jiangmen, PRC: Guangdong Qiaoxiang Cultural Research Center, Wuyi University. 336-345.
2001
 
with Lorraine Dong and Irene Poon, curators. Facing the Camera: Photographs from the Daniel K.E. Ching Collection. San Francisco: Chinese Historical Society of America Museum.