Your support has a positive impact on our AAS students and the Asian American Communities.
Overview of One of the Largest AAS Department in the Country!
College of Ethnic Studies
Your Donation Supports AAS Work in the Community.
Your Donations are Supporting the AAS Department to: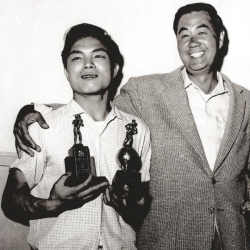 You Increase Educational Access by Supporting Basic Student Needs
With your donations, our AAS department can provide life-changing financial support for students with the greatest need and those that have been economically impacted by the COVID-19 crisis. The Asian American Studies Scholarship assists students with educational expenses, and the Paul Whang Memorial Endowment Fellowship provides support to students interested in working with low-income youth in Asian American communities.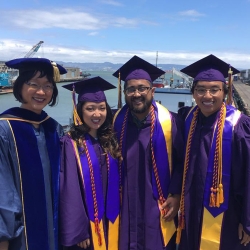 You Support Academic Excellence and Quality Curriculum
Donations or gifts made to the AAS department can help sustain our curriculum and expand our programming to help students thrive academically, professionally and in their personal lives. Previous funding has helped provide student research, service-learning, community-based learning and leadership opportunities. The Asian American Student Success Fund further supports AAS students with welcome orientations, educational programs and special gatherings with alumni.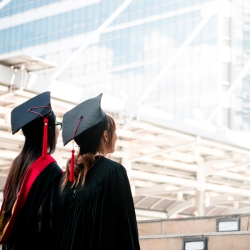 You Help Build a Positive and Inclusive Future
Asian American Studies is a unique educational experience where students from across campus learn about the histories, identities and cultures of Asian Americans through interdisciplinary approaches of community organizing, research, leadership development and educational dialogue. Our graduates and students who take our courses are equipped to take active leadership roles to create tangible change, with the goal of creating a more socially just and equitable society.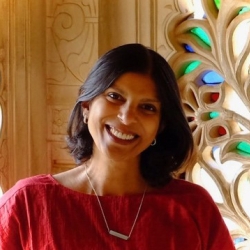 Anantha Sudhakar Memorial Scholarship Endowment
The Asian American Studies Department in the College of Ethnic Studies at SF State is establishing the Anantha Sudhakar Memorial Scholarship Endowment in honor of Dr. Sudhakar to help carry on her legacy of advancing education and social justice. Gifts may be made in her memory at give.sfsu.edu/sudh.
Find out if your employer will match your donation to SF State and make your gift go further.
Support our AAS department by check or money order. Please be sure to include your full name on the check.
Please make checks payable to "The University Corp, SF State/AAS"
Asian American Studies Department
San Francisco State University
1600 Holloway Avenue, EP 103
San Francisco, CA 94132
Support the AAS department by ordering the departmental publication, "At 40: Asian American Studies @ San Francisco State." This publication presents the direct, unfiltered description of the journey of the founding members of Asian American Studies in their own words.
Thank You to our Donors who Attended our 50th Anniversary Event!
AAS celebrated its 50th anniversary as AAPA, ICSA and PACE alumni joined keynote speaker Jose Antonio Vargas in commemorating our legacy of social justice and community empowerment. Our supporters raised over $65,000 so that qualified AAS majors can get paid internships and pursue their dreams to build our communities.
Thank you to our donors for the period of July 1, 2014, to June 30, 2015, who have given $100 and above to programs and projects that support our Asian American Studies students.
Wei Ming Dariotis and Hussain Abdulhaqq
Byron Doung
Pamela Eguchi
Dorothy Chinn Eng
Daniel Gusner
Wing Hsieh
 
Glen and Leonie Janken
Russell Jeung
Jason Lew
Hoa Lieu and Le Chung
Barbara Lim-Fung and Robert Fung
Laura Lai
 
Karen and Arnold Perkins
Randy Shinn
Jan and Brenda Sunoo
Barbara and Francis Whang
Denise Whang Woo and Emery Woo
Gail Whang & Norm Gusner
 
Ruth Whang
Anjela Wong
Jennifer Woo
Linda Woo
Grace Yoo
Judy Yung and Edward Fung