Our Students Are Social Activists who make a difference in their communities.
Join a collaborative and diverse community of students, internationally renowned faculty and leaders in the largest U.S. Asian American Studies program. We carry on the mission of our founding activities to address social inequities, encourage self-determination and serve our diverse Asian American communities.
Our graduate students apply critical pedagogies and theories to conduct original research that advances the field of Asian American Studies. With personalized faculty mentorship, graduate students learn to engage in interdisciplinary scholarship in many sub-disciplines, including education, gender studies, sexuality studies, history, law, behavioral science and more.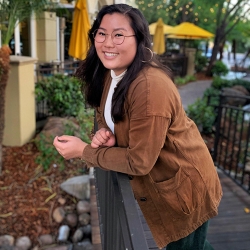 "I chose the Asian American Studies M.A. program at SF State primarily because of the program's history, reputation and resources. I really wanted to take advantage of all the faculty and support offered here, and in doing so, I have been able to set myself up for success in future doctoral study through publications, conference presentations and networking. Even if you're not thinking about going on to future study, the amazing faculty here will be able to support your diverse interests and projects, which is what makes this program so supportive and unique! Plus, the friends that I've made here will be lifelong connections!"
Elizabeth Mason, current M.A. student
Degree Program Data
Please note: Data based on Spring 2021.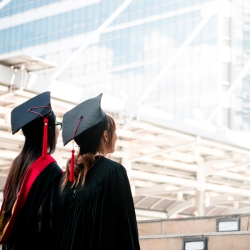 Gain Professional Skills!
Our graduate students gain a professional skill set applicable to diverse workforce sectors and pursue education at top-tier doctorate programs, including:
Stanford University
University of California (Berkeley, Davis, Irvine, Los Angeles, San Diego, Santa Cruz)
Claremont Graduate University
University of Illinois at Urbana-Champaign
Admission to the Graduate Program
Submit a Personal Statement Summarizing: 
How the M.A. in AAS will contribute to your personal and professional goals;
Your background prepares you for a graduate degree in AAS;
Your record of community service or student activism;
Your research topic(s) or specific area(s) of interest; and
How your research topic(s) or specific area(s) of interest align with those of our current faculty expertise. 
Submit a Writing Sample Demonstrating:
Research
Writing
Analytical skills
Submit a copy of all transcripts (in addition to the set submitted to Graduate Studies)
Demonstrate undergraduate proficiency equivalent to three of the following five Asian American Studies courses offered at SF State: AAS 320, AAS 330, AAS 350, AAS 360, AAS 370 and AAS 510. The student may be required to take additional courses to meet the minimum requirements and to seek additional program advising.
Submit two letters of recommendation (at least one from a faculty member).
Please note, there is no Spring Admission.
Priority Deadline: January 15thMarch 1: Committee will make decisions
Final Deadline: March 15th
To Meet with a Graduate AAS advisor, please contact:
All AAS graduate students will have a graduate committee composed of faculty with expertise in the graduate student's specialized field of study and research. Please confer with your committee members for advising.
Available advising centers 
Ethnic Studies Advising Center
The Ethnic Studies Advising Center (ESAC) serves all Ethnic Studies majors/minors and all students taking courses within the College with their academic, professional and personal goals, from the time of admission to the time of graduation. 
Advising Hub
The Advising Hub is a one-stop-shop of all advising needs to ensure students are on a successful path to graduation with support from General Education and minor advisors. 
Graduate Advising Center
The Division of Graduate Studies offers counseling and advising regarding issues ranging from admission to graduation. Whether you are a current, prospective master's degree, doctoral or credential student, the Graduate Advising Center is here to assist you.
Supervision Course Forms
To enroll in an AAS supervision course, a registration form is required. Please fill out and email completed forms to your instructor. Add codes will be released to you upon review/approval by your instructor. Be sure to use the add code to enroll in the class online before the add deadline.
AAS Major/Minor Declaration!
Download the Asian American Studies declaration form.
Graduation Forms
The Division of Graduate Studies has developed a list of various forms to support your academic journey.