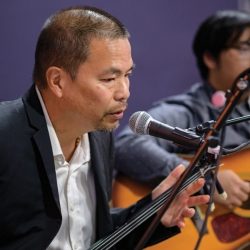 Wesley Ueunten 上運天巌, Ph.D.
Professor, Asian American Studies Department
Office: EP 211
Phone: (415) 338-2373
Email: wesueu@sfsu.edu
Photography was provided by: Scott Tsuchitani
Faculty Biography
Professor Uenten is a third-generation Okinawan born and raised in Hawai'i. His interest in his Okinawan background and in Ethnic Studies led him to spend over 10 years living in Okinawa and Japan. His Ethnic Studies background helped him form a critical analysis of how Okinawan culture and identity were formed in the context of both Japan and the U.S.'s racist colonial domination over Okinawa. As such, he feels privileged and proud to be part of the AAS Department and College of Ethnic Studies at SF State as well as excited over working learning from his colleagues in Critical Pacific Island and Oceania Studies!
Professor Uenten is currently on a Fulbright fellowship to teach and do research at Meio University in Nago, Okinawa. His research is on a particular song that his maternal grandmother brought to Hawai'i as an immigrant. It was in the privacy of home because of the discrimination against Okinawans within the Japanese immigrant community. His mother did not learn to sing the song because of the shame associated with it, but shared its meaning and emotion with him. Having been inspired by the movements that culminated in Ethnic Studies courses that he took in young adulthood, he learned to sing and perform the song. In the meantime, with the appropriation and commodification of Okinawan culture by Japan from the 1990s in a way that is similar to how culture of people of color in the U.S. is appropriated and commodified, the song has left the privacy of Okinawan circles to being a public representation of Okinawan-ness. It has also become a symbol of Okinawan-ness for diasporic Okinawans in South and North America, Hawai'i, and other parts of the world.
This project is an ongoing one and he has interviewed Okinawans in Hawai'i and California about this song and how it is taught, learned, performed, and interpreted. While in Okinawa, he will continue to interview Okinawans (including many South American Okinawans who have returned here to work and study) about the song.
Ph.D. Ethnic Studies, University of California at Berkeley, Ethnic Studies
M.A. University of Hawai'i, Manoa, Sociology
B.A. University of Hawai'i, Manoa, Ethnic Studies
210 History of Asians in the United States
211 Contemporary Asian Americans
330 Nikkei in the United States
333 Japanese American Identities     
697 Proseminar in Asian American Studies
710 Critical Approaches to Asian American Studies
800 Theory and History in Asian American Studies
2010
Community University Empowerment Grant, SFSU Cesar Chavez Institute
New Uchina Goodwill Ambassador Activities Support Program Grant, Okinawa International Exchange and Human Resources Development Foundation
Genyukai Berkeley, Founding Member and Instructor
Japanese American National Library, Advisory Board
Japanese Peruvian Oral History Project, Researcher
National Japanese American Historical Society (NJAHS), Scholar-in-Residence
Okinawa Kenjinkai of San Francisco, Vice President and Goodwill Ambassador
Administrative Search Committee Pool
Center for Teaching & Faculty Development Advisory Board (2015 - 2018)
Faculty Advisor (Asian Student Union - ASU)
Faculty Advisor Hmong Student Association)
Yellow Journal Faculty Advisor
"Questioning the 'World': Millennial Generation Okinawan American Identity Matters" in Japanese American Millennials: Rethinking Generation, Community, and Diversity. Eds.  Michael Omi, Dana Y. Nakano, and Jeffrey T. Yamashita. Philadelphia: Temple University Press, 2020. 255-269. Print
"Nakayoshi Group: Postwar Okinawan Women's Articulations of Identity in America" in Trans-Pacific Japanese American Studies: Conversations on Race and Racializations.  Eds. Yasuko Takezawa and Gary Y. Okihiro.  Honolulu: University of Hawaii Press, 2017.  Print
"Okinawan Identity in the Diaspora: A Messy Genealogy" in PAN-JAPAN: The International Journal of the Japanese Diaspora. Vol. 12, Numbers 1& 2, Spring/Fall 2016.
"Incorporating an Okinawan Perspective into Ethnic Studies at San Francisco State University" in International Journal of Okinawan Studies. Vol. 6, December 2015.
"Critically Examining "World Uchinanchu" Discourse: Identity Consciousness among Overseas Okinawa Immigrants and Their Decendants" in Seijo CGS Working Paper Series, No. 11 (Center for Glocal Studies, Seijo University, Tokyo, Japan: 2015)
"'Okiina monogatari' ga kataranai monogatari: beigunjin no tsuma toshite amerika ni watatta joseitachi (Stories that the 'Grand Narrative Does Not Tell: Okinawan Women who Migrated to America as Wives of U.S. Servicemen)" translated by Hisako Motoyama in Asia-Japan Women's Resource Center (AJWRIC) Journal No. 71 September 2012.  46-49.
"Rising up from a Sea of Discontent: The 1970 Koza Uprising in U.S.-Occupied Okinawa." Militarized Currents Toward a Decolonized Future in Asia and the Pacific. Eds. Setsu Shigematsu and Keith Camacho. St. Paul: University of Minnesota Press, 2010.  91-124. Print.
"Determining Oceania: A Commentary on Indigenous Struggles" with Keith L. Camacho. International Journal of Okinawan Studies (IJOS). [Contributed Equally].  Accepted for publication September 20, 2010.  
2010
Ka'ala Carmack, John-Carlos Perea, and Wesley Ueunten in Concert. San Francisco State University.
2009
Opening Ceremony. Ethnic Studies 40 Years Later: Race, Resistance, and Relevance. San Francisco State University
2008
Sound Come Unity Concert. Asian Improv Arts.