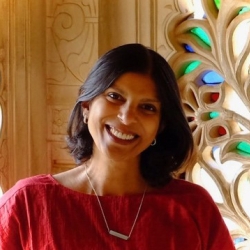 Anantha Sudhakar, Ph.D.
Dr. Sudhakar passed away on August 11, 2021, surrounded by her family. She is deeply missed.
Dr. Anantha Sudhakar received the Spring 2021 Emerita/Emeritus honor.
We are deeply grateful for Dr. Sudhakar's many years of hard work, deep commitment, and extraordinary dedication to social justice and the education of undergraduate and graduate students. She embodied the best qualities and values of Asian American Studies and Ethnic Studies. 
Dr. Sudhakar joined the Asian American Studies Department and San Francisco State University in 2012, and was promoted to Associate Professor in 2019. She served as Assistant Dean of the College of Ethnic Studies until her retirement in 2021. She was known for her gifted teaching and mentorship to students, and for her valued leadership and advocacy with the faculty and administration for enhanced resources and inclusion of Asian Americans at all levels.
Dr. Sudhakar inspired students and colleagues for decades with her extraordinary Asian American literature, art, and culture courses. She educated students on South Asian experiences in the United States and Asian American women, alongside theory and history of Asian Americans in the United States. At SF State, she served on the M.A. committee and chaired or served as second reader on over 15 M.A. thesis projects.
Dr. Sudhakar's research interests encompassed several crucial intersections within the fields of Ethnic Studies and Asian American Studies. Her scholarship touched on key questions around the South Asian American diaspora, arts activism, gender studies, and queer theory. Over the last decade, Dr. Sudhakar transformed this scholarship through her activism. She inspired an entire generation of scholars and activists through her work with various organizations and collectives, including the Bay Area Solidarity Summer, South Asian American Digital Archive, and TIDES Editorial Collective.
Over her time at SF State, Dr. Sudhakar impacted hundreds of lives every year — both undergraduate and graduate students have been changed by Dr. Sudhakar's mentorship. Under her guidance, countless students have transformed their educational endeavors due to Dr. Sudhakar's unwavering support. Even after students graduated from SF State, Dr. Sudhakar's impact continued far beyond the classroom as she continued to share her experience and knowledge with compassion.
Dr. Suhakar's life, teaching, and scholarship reflected the tradition of community engagement, student-centered learning, and drive to work toward a more just and caring society. She epitomized the grounding mission of the Asian American Studies Department at SF State. 
Thank you, Dr. Anantha Sudhakar, for sharing with us your true spirit of generosity, kindness, thoughtfulness, and courage — you remain a guide for all of us.
With love and deepest gratitude,
The faculty and staff of the Department of Asian American Studies
San Francisco State University
Faculty Biography
How does Asian American literature and art help us to envision and enact social change? This core question shapes all of Professor Sudhakar's scholarship, teaching and community work. She has explored answers to this question through her prior research on: South Asian American arts organizing in the 90s; the post-9/11 novel; and queer and feminist approaches to Afro-Asian solidarity. Currently, she is writing about neighbor characters in contemporary Asian American fiction — focusing especially on how relationships among neighbors capture the possibilities and challenges of cross-racial alliance. Drawing on an emerging interest in disability studies, she has also published academic and personal essays on life with cancer.
In the classroom, she teaches undergraduate and graduate courses on South Asian American Studies, Asian American literature and Asian American theory. Her pedagogy centers students' voices and encourages them to trust their instincts. Whether they are debating the meaning of a novel, deconstructing a TV show or diving into immigration archives, students learn to theorize the interconnections among history, creative expression and lived experience. Over the past five years, she has taken a special interest in developing innovative online classes that are both accessible and engaging. 
She comes to the academy following a decade-long career as an arts organizer in New York City, where she created public programs and festivals for The Asian American Writers' Workshop and the South Asian Womxn's Creative Collective. She currently serves on the board of The Circle for Asian American Literary Studies and the Academic Council of the South Asian American Digital Archive (SAADA), the largest public archive of South Asian American history.
Ph.D. Rutgers University, English
M.A. University of Washington, English
B.A. University of Virginia, English and Women's Studies
South Asian American literature and culture; diaspora and transnationalism; social justice and arts activism; gender studies and queer theory
211 Contemporary Asian Americans
216 Introduction to Asian American Literature
218 Asian American Culture
540 South Asians in the United States
581 Asian American Women
Development of Research and Creativity (DRC) Grant, 2021
Presidential Award for Professional Development of Probationary Faculty(one-semester sabbatical for Spring 2016)
Exemplary Diversity Scholar Citation, National Center for Institutional Diversity, 2012
Chancellor's Postdoctoral Fellowship, University of Illinois at Urbana-Champaign, Asian American Studies Program, 2011-2012
Andrew W. Mellon Fellowship in Humanistic Studies, 1998
Bay Area Solidarity Summer (BASS)
South Asian American Digital Archive
TIDES Editorial Collective
COES Leave with Pay Committee
Faculty Advisor (Pakistani Student Association)
Upper Division Certification Committee of BRC (U.D.D.C.)
Yellow Journal Faculty Advisor
The Asian American Studies Department in the College of Ethnic Studies at SF State is establishing the Anantha Sudhakar Memorial Scholarship Endowment in honor of Dr. Sudhakar to help carry on her legacy of advancing education and social justice. Gifts may be made in her memory at give.sfsu.edu/sudh.