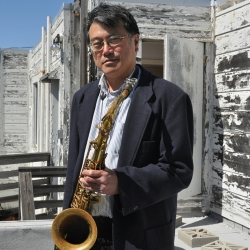 Francis Wong, MA
Lecturer Faculty, Asian American Studies
Office: EP 420 
Email: fwong@mail.sfsu.edu
Photography was provided by: Leon Sun
Lecturer Faculty Biography
Wong has a 45+ year history in student and community activism, beginning in the Asian American Movement of the 1970s and 80s. He is known for his contributions to community-based arts that share the stories and perspectives of Asian Americans.
Francis Wong was honored as the Distinguished Graduate Student in Asian American Studies at the Graduate Student recognition ceremony on Wednesday May 25, 2016.  Francis was honored for his academic excellence and for his artistic and community practice in the Asian American community. As an award-winning saxophonist, composer, and music director, while in graduate school he  directed and recorded musical scores for Lenora Lee's immersive dance theater works "The Detached" and "Rescued: NY Stories" (2014) which dealt with the issue of human trafficking and "Fire of Freedom" (2015) which dealt with issues of war, trauma, and women's experience. He also released a CD of new work entitled "Needs Are Met" in collaboration with legendary saxophonist Ari Brown and veteran bassist Tatsu Aoki in Chicago.
Through his artistic talents, Francis has  supported several Asian American non-profit arts and culture organizations including the following organizations and/or events:
Chinese Historical Society of America; Chinese Culture Foundation of San Francisco
Chinese Performing Arts of America in San Jose
Asian Pacific Islander Cultural Center (a virtual center under San Francisco Arts Commission
Au Co Vietnamese Cultural Center
Kularts – the nation's premiere presenter of Pilipino contemporary and tribal arts
Lenora Lee Dance – contemporary dance
Genryu Arts/Japan Week Festival – Japanese cultural arts
Asian Improv Arts Midwest – Chicago branch of Asian Improv aRts
Melody of China – leading professional music ensemble of traditional Chinese instrumentalists
Wong is currently working on several recording projects with hybrid ensembles combining traditional and contemporary Asian and Black musical cultures and instruments.
Served as a key informant in ethnomusicology studies on Asian American music making by prominent scholars such as Deborah Wong (UC Riverside), Loren Kajikawa (George Washington University), Kevin Fellesz (Columbia University). He most recently was quoted on a major piece on Asian American music by Cat Zhang in the popular online publication Pitchfork.