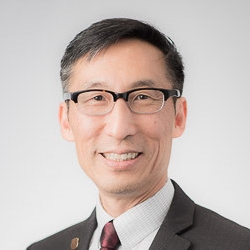 Eric Mar, J.D.
Professor, Asian American Studies Department*
Office: EP
Phone: 415-378-5864
Email: ericmar@sfsu.edu
1981 Year of first appointment in Asian American Studies
Emeritus Faculty Biography
J.D. New College of California School of Law, San Francisco
BS University of California, Davis
Academic Senate and Strategic Issues Committee, (2019)
Academic Master Plan (AMP) Steering Committee Working Group (2018 - 2019)
50th Anniversary Faculty Committee & Friends of the College of Ethnic Studies, San Francisco (2017- 2019)
Education for Social Justice Foundation, Advisory Board, SF (2017 - Present)
National Advisory Board, Corporate Accountability International [formerly INFACT], (2016 - Present)
San Francisco Public Health Foundation, Reviewer for the Sugary Drink Distributor Tax (SDDT) Healthy Communities Grants from the SF Soda Tax (June-August 2019)
Policy Advisor with the SF Board of Supervisors, Implementing 2016 Prop N - Immigrant Parent Voting Rights Law and SF Soda Tax Task Force (Sugary Drinks Distributor Tax Advisory Committee) (2017 - present)
Co-Chair, San Franciscans for Municipal Fiber Coalition, SF (December 2016 - 2018)
Center for Community Engagement, Office of Community Partnerships, UCSF, Council Member (2016-2018)
SFCAN [SF Cancer Action Network], Advisory Board Member (2017 - 2018)
National Association for Ethnic Studies (2017 - 2020)
California Faculty Association (2017- Present)
Association for Asian American Studies (2016 - Present)
Teachers for Social Justice, SF Bay Area, 2004-2008 (Board of Directors) (2016 - Present) (participant)
California State Bar (1991 - Present) (currently inactive status)
US District Court, Northern District of California (1993 - Present)
Asian Pacific American Labor Alliance (1992- Present) (SF Chapter Board of Directors, 1993-2000)
2019
"RIP Halmoni Kim Bok Don on the 3rd Anniversary of the SF "Comfort Women" Memorial," with Congressman Mike Honda and Meehyang Yoon of the Korean Council, Chinatown, SF, September 2019.
"Constitution Day 2019: US History of Mass Deportations Based on Race, Class and Ideology, and  The Rise of the Immigration-Military-Prison Industrial Complexes and Community Resistance!, SF State University, September 2019.
"Lessons from the 80's/90's Asian American Movement," Prof. Robyn Rodriguez' Asian American Movement class at UC Davis, July 2019.
"Left Turn: The Asian American Electorate in the 2016 Elections," Association of Asian American Studies Conference, Madison, Wisconsin, April 2019.
2018
"San Francisco's 'Comfort Women' Memorial Honors 'Truth & Justice: Remembering Comfort Women," for Opening Ceremony of International Exhibit by the Korean Council for Justice and Remembrance for the Issues of Military Sexual Slavery by Japan, SF, September 2018.
"Pan-Asian Transnational Women-led Social Movements: San Francisco's Justice for 'Comfort Women' Organizing and Advocacy" Panel and "Teaching Moments/Lessons from the SF Memorial to 'Comfort Women'" Roundtable and "Teaching About Comfort Women Panel," Association of Asian American Studies conference, SF, April 2018.
"Serve the People!: Lessons from 49 years of Community Service Learning, Partnerships & Leadership Through Asian American Studies at San Francisco State University," Presentation and Panel APAHE (Asian Pacific Americans in Higher Education) Conference, Oakland, March 2018."Ranked Choice Voting and Immigrant Communities: the SF Experience," remarks at FAIRVOTE Forum, Oakland, 2018.
"AAPI Students Breaking Silence! Lessons from SF's 'Comfort Women' Memorial Struggle," tour and talk with SFSU ASPIRE [Asian American and Pacific Islander Retention and Education] student leaders, Chinatown, SF, 2018.
2017
"The Day is Long and Full of Terror: Chinese American Subjectivity, Citizenship and Agency," Moderator, Panel at This Land is Our Land Conference, Chinese Historical Society of America, Chinatown, SF, 2017.
"Breaking Silence/Healing with Justice: Organizing Lessons from San Francisco's 'Comfort Women' Memorial Struggle," panel at the National Association for Ethnic Studies Annual Conference, SF, 2017. 'Comfort Women' Justice Coalition Memorial Ceremony, Keynote Speech and Intro of 'Halmoni' Yong-Soo Lee, one of the few remaining survivors, Chinatown, SF, 2017.
High School Teachers Training Workshop: "Teaching about the WWII 'Comfort Women' and the Struggle for SF's Memorial", with Educators for Social Justice Foundation, SF Teachers for Social Justice Annual Conference, SF, 2017.
"SF's Ranked Choice Voting and Empowerment of Disenfranchised Communities," remarks at FAIRVOTE/Local Progress leaders' conference, Minneapolis, MN, 2017.
"Rebel Cities: SF and Sanctuary Cities On the Rise", Presentation at the 26th Annual Yosemite Policymakers Conference, Yosemite Valley Lodge in Yosemite National Park, 2017.