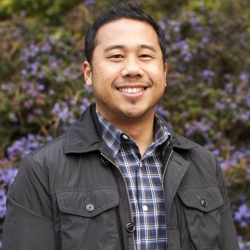 Eric J. Pido, Ph.D.
Professor, Undergraduate & M.A. Coordinator, Asian American Studies Department
Office: EP 428
Phone: (415) 338-7585
Email: epido@sfsu.edu
Faculty Biography
Ph.D. University of California at Berkeley, Ethnic Studies
MSW University of Washington, Social Work/Policy Analysis
B.A. University of California at Los Angeles, History and Study of Religion
Filipina/o and Filipina/o American Studies; transnational Asian migration, Asian and Asian American migrant geographies, and urban studies
110 Critical Thinking and the Asian American Experience
211 Contemporary Asian Americans
353 Filipina/o American Identities
595 Asian American Communities and Public Policy
681 Asian American Community Changes and Development
696 Critical Approaches to Asian American Studies
697 Proseminar in Asian American Studies
833 Seminar: Asian American Family and Identity
865 Asian American Community and Public Policy
2014
Spring, SFSU Presidential Award for Professional Development of Probationary Faculty
2011
Pre-doctoral Diversity Fellowship in Sociology, Ithaca College
2009
Institute for the Study of Social Change Graduate Fellows Program, University of California at Berkeley
2007
Foreign Languages and Area Studies Fellowship, South-East Asian Studies Summer Institute, University of Wisconsin-Madison
2005
Eugene Cota-Robles Teaching Fellowship, University of California at Berkeley
2004
Graduate Student Research Fellowship, Institute on Inequality and Social Structures, University of Washington
Bindlestiff Studio, Board Secretary
Manilatown Heritage Foundation, Advisory Board
Project ASAP, Advisory Board
SF Filipino Mental Health Initiative, Member
AAS Assessment Committee
BA Curriculum Planning Committee
Faculty Advisor (Kappa Omicron - AKO)
Faculty Advisor (Philipino American Collegiate Endeavor - PACE)
2017
Migrant Returns: Manila, Development, and Transnational Connectivity. Durham, NC: Duke University Press.
"Return Economies: Speculation and Manila's Investment in Durable Futures." Verge: Studies in Global Asias 2.1 (2016), 51-57.
2015
"Property relations: alien land laws and the racial formation of Filipinos as aliens ineligible to citizenship." Ethnic and Racial Studies (2015): 1-18.
2014
Migrant Returns: Manila, Development, and Transnational Connectivity. In press. Durham, NC: Duke University Press.
"Balikbayan Paranoia: Tourism Development in Manila and The Anxiety of Return." Pp 31-46 in Jonathan X. H. Lee (ed.), Southeast Asian Diaspora in the United States: Memories & Visions Yesterday, Today, & Tomorrow. 2014. United Kingdom: Cambridge Scholars Publishing.
Review of Little Manila Is in the Heart: The Making of the Filipina/o American Community in Stockton, California (by Dawn Bohulano Mabalon). 2014. Southern California Quarterly, 96(3): 360-362.
2012
"The Balikbayan Economy: Filipino Americans in the Contemporary Transformation of the Philippines." International Symposium on "International Migration and QiaoxiangStudies" Conference Proceedings. Vol. 1. Jiangmen, PRC: Guangdong Qiaoxiang Cultural Research Center, Wuyi University. 120-132.
"The Performance of Property: Suburban Homeownership as a Claim to Citizenship for Filipinos in Daly City." Journal of Asian American Studies 15.1 (Feb. 2012).